Azita Amini
Sr. Data Security Auditor, Consultant, Instructor
Visa PIN Security Assessor
TR39 PIN Security Assessor
With over 20 years of technical experience in design and implementation of secure financial services applications as well as compliance and auditing of debit card transactions, in the financial industry and ecommerce world.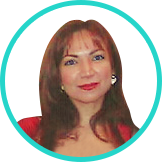 Career Highlights
With KPMG LLP for over 5 years in the Information Risk Advisory division, focusing on security of Financial Services operations and eCommerce applications.   Performed many SOX 404 audits, Sas 70s, WebTrusts, SysTrusts, ISO 27001 (formerly known as BS 7799) and TG-3 Audits.
At Wells Fargo Bank in their retail banking cryptographic support and services, for over 5 years. Responsible for secure management of the bank's ATM, POS and Credit Card operations with regards to the cryptographic data elements used to protect card holders' transaction data.
At MagTek Inc. for over 7 years, as a Product Manager and Engineer, in charge of design and development of a variety of 'secure' retail banking products such as Pin entry devices (PEDs), Teller terminals used to issue ATM cards, Credit Card/Bank Card readers and encoders, Check Readers, etc.

Member of American National Standards (ANSI) X9F division since 1990 and actively involved in the development of a number of standards on data security in Retail Banking such as X9.24, X9.8, X9.49, X9.57, and the TR39 Audit Guideline.